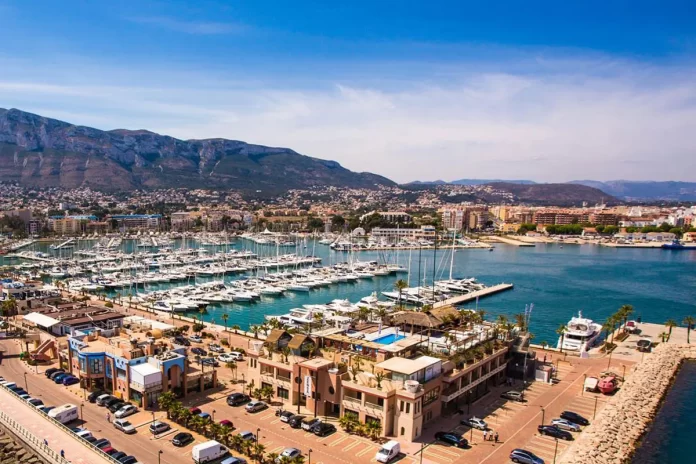 The lovely city of Denia in the costa blanca, still relies heavily on the sea for its income and wholeheartedly embraces tourists. It boasts four beautiful Blue Flag beaches and is renowned across Spain for having an excellent gastronomic scene.
You can only find the Denia prawn in a deep sea trench between here and Ibiza, and it's quite the luxurious dish if you don't mind spending a tad more money.
To the south and east of Denia, you'll find towering cliffs at Cape San Antonio and the Montgó mountain nature reserve. For memorable stunning views, consider visiting one (or both!) of these natural wonders.
As well as the rocky coves, beautiful beaches, the booming Denia nightlife, beach bars, and Denia castle.
With so much to see and experience it is a great place to travel for your holidays in addition, swift car hire and a shuttle bus to Alicante airport your holiday will be stress free.

1. Les Marines
Denia marina is a great choice for visitors looking for the perfect beach experience, one of the best Denia attractions.
This beach is the perfect place to escape the hustle and bustle of everyday life.
With a length of almost three kilometres, there's plenty of space for you to relax on the soft golden sands.
Behind the beach are low dunes and a mix of apartments and holiday homes, so you can enjoy peace and quiet without feeling too isolated.
Not only will adults enjoy this beach, but children can play in the shallows as it shelves gradually.
In addition, there are plenty of places to get food and drinks, and you can even rent pedalos from the shore.
Denia's beaches are great for all, with a multitude of fun activities making it a perfect place to take family and friends.
Denia marina is also surrounded by an abundance of fine restaurants great for all different tastes.

2. Punta del Raset
Punta del Raset, the beach nearest to Dénia's centre, has a lovely open and natural atmosphere. You'll need to use the wooden walkways crossing it if you don't want to get your feet burned on the dusky golden sand.
Punta del Raset's size ensures some privacy, even on busy weekends in July and August. Additionally, the beach faces west instead of east like most beaches in Dénia.
This provides shield from the easterly winds so that the sea is usually much smoother than at other nearby beaches making it a great place to get a golden tan.

3. Castillo de Dénia
Denia castle was originally built by the Moors in the 10th century, but it stands on foundations from an even earlier Roman fortress.
The 11th century saw the construction of a luxurious palace that served as the home of Daniya Madinat's Moorish governor.
However, pirate attacks from Barbary Pirates later prompted its conversion to a military fortress in order to offer protection against these frequently attacking early modern-day pirates.
Denia castle is now the highest point in present-day City and you can get up to its roof for an unobstructed view of the harbour below and Montgó Mountain located southeast.

4. Montgó
You can tell your friends an exciting story about tackling Mt. Montgó, which is a towering 750-metre ridge that lies between Dénia and Jávea.
What you don't need to burden them with are details–like how easy it actually is to climb this mountain. If you're driving on CV-736, look for the shooting club and park near it; from there, it's smooth sailing (or climbing) to the top!
The mountain is most easily climbed from the east, where the path zigzags up along terraces of limestone. Watch your step near the top, though, as there's some loose scree after 600 metres or so. From there you can enjoy a bird's-eye view of the costa blanca.

5. Les Rotes
If you move east from the port, the beaches will gradually get smaller and rocky. If you would rather be in small coves than large beaches, this is the perfect spot for you.
Les Rotes is a coastline containing many rock pools and small beaches. It's in a quiet area of Dénia, but there are still some refined seafood restaurants nearby.
The views from Les Rotes are marvellous; you can see the golden sandstone cliffs of Cabo San Antonio and across the waters of the marine park below.

6. Local Gastronomy
Dénia's fishing industry is flourishing, in part due to a specific type of crustacean.
The Dénia red prawn has a bright red tint and lives 600 metres beneath the surface in a deep sea trench between this part of the Valencian coast and Ibiza.
The prawns here have an algae diet that gives them a unique flavour unmatched anywhere else. However, because they're tricky to catch, be prepared to shell out extra.
The paella is some of the best seafood you'll taste too – make sure to sample it while you're here! Espencat is another Valencian dish consisting of red peppers and aubergines served with cod – definitely worth trying as well!

7. Gerro Tower
You could also take an exhilarating seafront walk up to this vase-like historic watchtower, perched on the bluffs on the Dénia side of Cabo de San Antonio.
Built in the mid-16th century during Carlos I's reign, it was part of the first generation of coastal watchtowers designed to detect or even fight off Berber pirate incursions.
This particular structure was one part of a system that used mirrors and smoke signals to communicate with other structures. Because it had its own freshwater spring, this location would have been fairly self-sufficient.
For hobby historians, the most exciting find is the coat of arms of Carlos V, which features the two-headed eagle representing the Habsburg Empire. The watch tower and its surroundings are definitely worth exploring.

8. Barrio Baix la Mar
The Barrio Baix la Mar is a lovely area of Dénia for an afternoon stroll. This seafront quarter has centuries-old homes brightly painted in blue, yellow and red, which were once inhabited by fishermen and sailors.
With just a short walk the more restaurants you will find. These eateries often have outdoor seating shaded by palm trees and canvas awnings.
The wrought iron balconies are decorated with flowers and plants that cascade down the walls of these mostly 18th- and 19th-century homes. However, there is evidence that this was also a waterside district in Moorish times.

9. Toy Museum
For the first few decades of the 20th century, Denia was known for its toy-making industry. However it was only after the phylloxera blight ruined the vineyards. In 1904, it began assembling metallic models of trains and other objects.
The city shifted its focus to wooden toys in the 1920s, and soon garnered a reputation for meticulously crafted model cars, dolls, bowling sets, and sailboats.
You can explore these vintage toys at this free Denia attraction located in an old train station. The collection of the evolution of the city's toy-making tradition from the early 1900s up through the 1960s.
For many a visit to the toy museum will probably be a visit with the family with many shops and restaurants in the surrounding area as well as public transport making it ideal for day trips.

10. Ethnology Museum
If you're looking to take a step back in time, this is the perfect attraction for you. It will transport you all the way back to the 1800s when Dénia was doing better than ever before thanks to its dried fruit harvest.
The cash flow from raisins allowed the city as a whole to expand and create even more opportunity through railway access.
Now, on the ground floor of this attraction, you can view vintage photographs of raisin production!
The displays on the upper floors show what the new bourgeoisie wealth meant for the people of Denia, as well as the fashionable clothes and jewellery of the time.
On the top floor, you can see more rustic displays of work tools and folk costume, as well as a map that indicates the extent of Denia's maritime trade with other nations.
A great place to visit if you love anthology, historical buildings and memorabilia.

11. Cabo de San Antonio
The walk to the end of this large headland southeast of Denia may appear intimidating to families, but there is a road going past old windmills that will take you there.
Spanish architecture, captivating views of the ocean and clear skies as far as the eye can see – people come from all around to spend a few hours picnicking here. On especially gorgeous days, you can even see Ibiza!
The 160-metre high cliffs are home to a rich marine life, including grouper and sea cicadas. Fishing is strictly prohibited in the waters below the reserve as it is a marine reserve.
Still, many can scuba-dive in these waters and admire the sea life.

12. Hermitages.
La Ermita De Pare Pere:
Did you know that there are old hermitages and chapels located in the picturesque countryside around Denia? These buildings date back to the 15th and 16th centuries, making them quite unique. Why not go on a little adventure to find one (or all!) of these gems?
These missions were often built in remote locations and today remain mostly uninhabited except for maybe a small weekly mass or on saint's days when people might make the pilgrimage.
Denia's tourism office can give you more information on how to find the locations below.
Pare Pere is located on the middle slopes of Montgó, which sits within a pine-woodland natural park.
The 17th-century house that Fray Pedro Esteve used for prayer and meditation during his retreats still stands today.

13. Las Fallas
The town of Denia celebrates Saint Joseph every year in mid-March.
As the patron saint of carpenters, various tradesmen in the city would hold bonfires each year to clear out their old scraps.
This gradually snowballed into today's noisy celebrations that are fueled by gunpowder.
It all starts when 11 papier mâché sculptures, usually satirical in nature, are displayed around the city.
The "plantà" is when the sculptures are first set up, and over the following days they are paraded through town for judgement. Each day there is also a "mascletà" at 2:30pm- a loud fireworks display in Plaza Jaume I.
Then, on the final night, all of the sculptures except for the winner are burned in large bonfires; this event is known as the "cremà."

14. Water Sports
Dénia is a top destination in Spain for water sports among those who are knowledgeable on the subject, with as many activities as paddle surfing, scuba diving a boat tour
The orientation of the resort is key, as it enables it to catch the prevailing winds at Les Deveses. This particular location is at Punta del Raset's uppermost end.
It's great news for windsurfers and kite-surfers, especially those interested in giving these sports a try for the first time; Dénia provides the perfect opportunity to do so.
For those interested in sailing, there are several schools located in the harbour.
The Real Club Náutico de Dénia (royal sailing school) is especially well-known for its prestigious regattas, the Ruta de la Sal and the Copa del Canal.

15. Cova Tallada
The only way to get to this hidden cave in the San Antonio reserve is by being brave and pushing forward.
You can access it from Les Rotes by foot, past the Gerro Watchtower.
Those seeking an adventure can find two hair-raising paths down from the rim of the bluffs, but make sure you wear proper shoes first.
If that's not your idea of fun, consider booking a kayak trip with one of Dénia's adventure sports companies and paddling your way there instead.
Regardless of how you get there, the cave is worth exploring, with clear waters perfect for snorkelling and a huge chamber to investigate. Many people also come just to relax on the rocks and swim in the warm sea.

Conclusion
These are only the top 15 reasons to visit Denia, but there truly is something for everyone. If you love adventure and nature, or a good shopping day and drinks at night, Denia is the perfect place to visit year round.
If Denia has captured your heart and you're thinking about buying a property as a second home or maybe your retirement home, be sure to visit our property for sale in Denia page. You'll find properties in all price ranges from agents that meet Spanish Casa's standards.