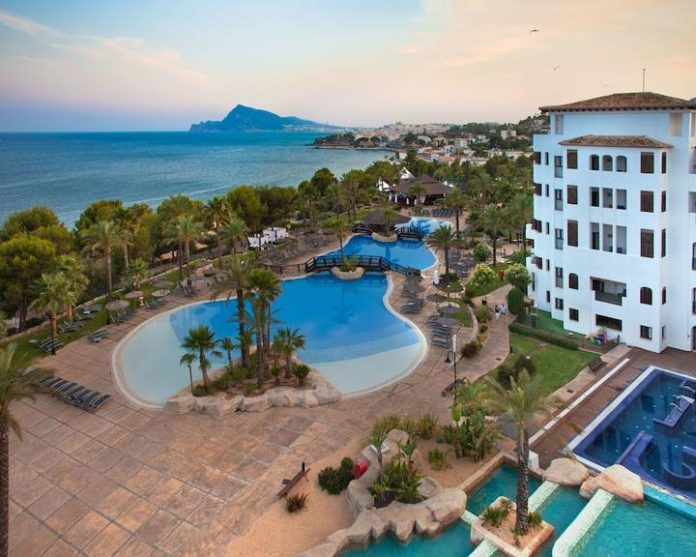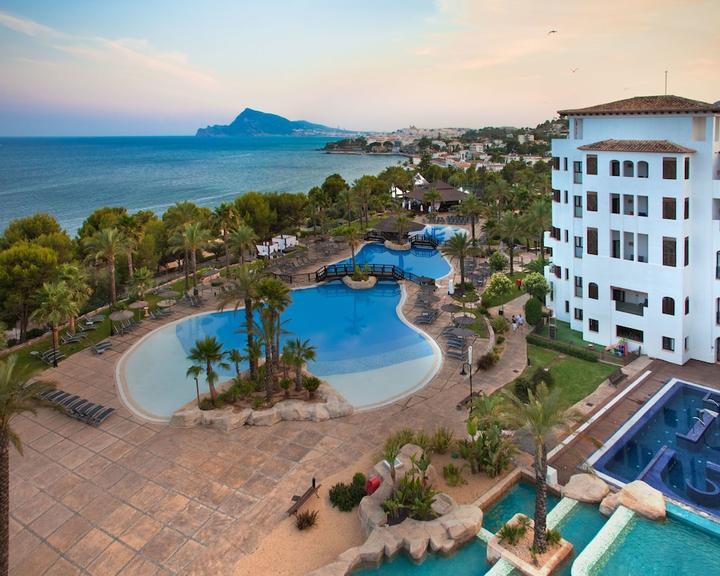 If you've narrowed down your property search in Spain to the town of Altea, you couldn't have done any better! Altea is located about an hour drive north of Alicante and is a beautiful beach-side town that stretches for 6 kilometres on the prime Mediterranean coast. Our staff at Spanish Casa love spending warm summer days exploring the centuries old white-washed and bougainvillaea laced streets of the old town.
This article is focused on helping people who are buying a home in Altea find accommodations while searching for their perfect property. We are going to list some of the best hotels or what the Spanish call hoteles en Altea. After all, if you're planning on living in Altea, why not experience the best it has to offer right on the jump!
Our Criteria for Our Hoteles Altea List
In order to give you the best hotels in Altea to stay at on your property search, we've considered some key factors:
Price – The price per night will play a factor when picking a hotel in Altea so we will stay away from both super expensive hotel rooms and hostels and budget options.
Location – Because your property search in Altea may stretch further down to coast or inland, we are going to give centralised options. The locations will also be close to restaurants, shopping and attractions in the city of Altea.
Amenities – Why not get more for less? Our list has taken into account amenities like pools, spas and dining options within the hotel in Altea.
Value – This is an aggregate of all of the data points above plus our own personal assessment on the hotel.
Before we start, we have not been paid by any of the hotels in Altea. This is simply a free resource to help you feel relaxed while you find your perfect property. We understand that everyone's taste is different so we will try to include something for everyone. Let's begin!

SH Villa Gadea Hotel
This stunning Altea hotel is located just 5 minutes north on the N332 just north of the Atlea town centre. This hotel offers a grand hotel experience with sweeping views of the beach. The rooms are large and spacious outfitted with neutral decor and large comfortable beds. If you're travelling with a family, there are options for 2 queen sized beds and even a roll-away cot to be brought into the room.
Price 7.5 out of 10
Rooms at this hotel start around €85 per night. Rates can go up considerably during the summer months so be sure to book early to avoid heavy prices. We've graded this Altea hotel a 7.5 out of 10 because it can be a bit pricey. But if you're looking to pamper yourself while hunting for your property, the comfy bed and amenities will justify the price.
Location 7 out of 10
The location of the SH Villa Gadea Hotel is slightly out of the way from where all of the action is. While it is possible to walk into town, it can be a bit far.
That being said, the location of the SH Villa Gadea Hotel allows for a more relaxed space with quiet rooms and peaceful outdoor areas.
Amenities 10 out of 10
This Altea Hotel deserves a perfect score. With fine dining, elegant and comfortable rooms and an epic outdoor pool area, this hotel executes everything needed for its 5 star rating.
Value 9 out of 10
If you're ready to tour properties in the area, the SH Villa Gadea Hotel is an excellent choice. At this price point, you'll enjoy plenty of leisure activities between your house hunting. Our only drawback is the location is not ideal but everything in life is give or take isn't it?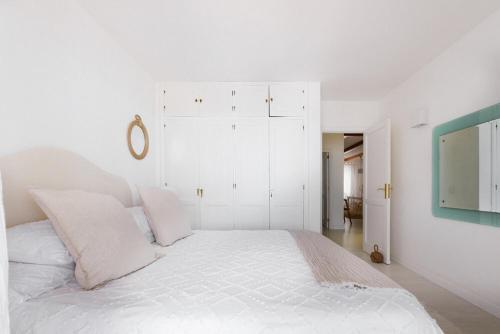 Guest House Bellaguarda
Switching up a little bit, we thought we'd throw in a curve ball. If you're trying to get the feel of living in Altea, why not try living in your own home located right in the heart of the city? This mini hotel offers anyone who stays an authentic feeling of life in the city.
Guest House Bellaguarda boasts a charming feel of being transplanted right into living as a local within the city. You can walk up to the old town centre or take a 5 minute stroll to the beach to enjoy a morning cafe americano. Best of all, because of its central location, there is a chance you'll be within walking distance to most of the estate agencies.
Price 7 out of 10
Average price for this rental is around €120 a night according to booking.com. It is perfect for families coming to Altea to search together. The property has 3 bedrooms, free parking, wifi and your own full size kitchen which is fully equipped.
Location 9.5 out of 10
Set right in Bellaguarda, one of Altea's oldest barrios, the location of this hotel is hard to beat. Set right in the heart of the old town and only a few short blocks from the Altea beach promenade, you'll be right where all of the action is. There are plenty of excellent restaurants in the area sure to be appetising after a long day of finding your dream home.
In the evenings, you will enjoy sweeping vistas of the old town including Nuestra Señora del Consuelo church and its famous blue dome.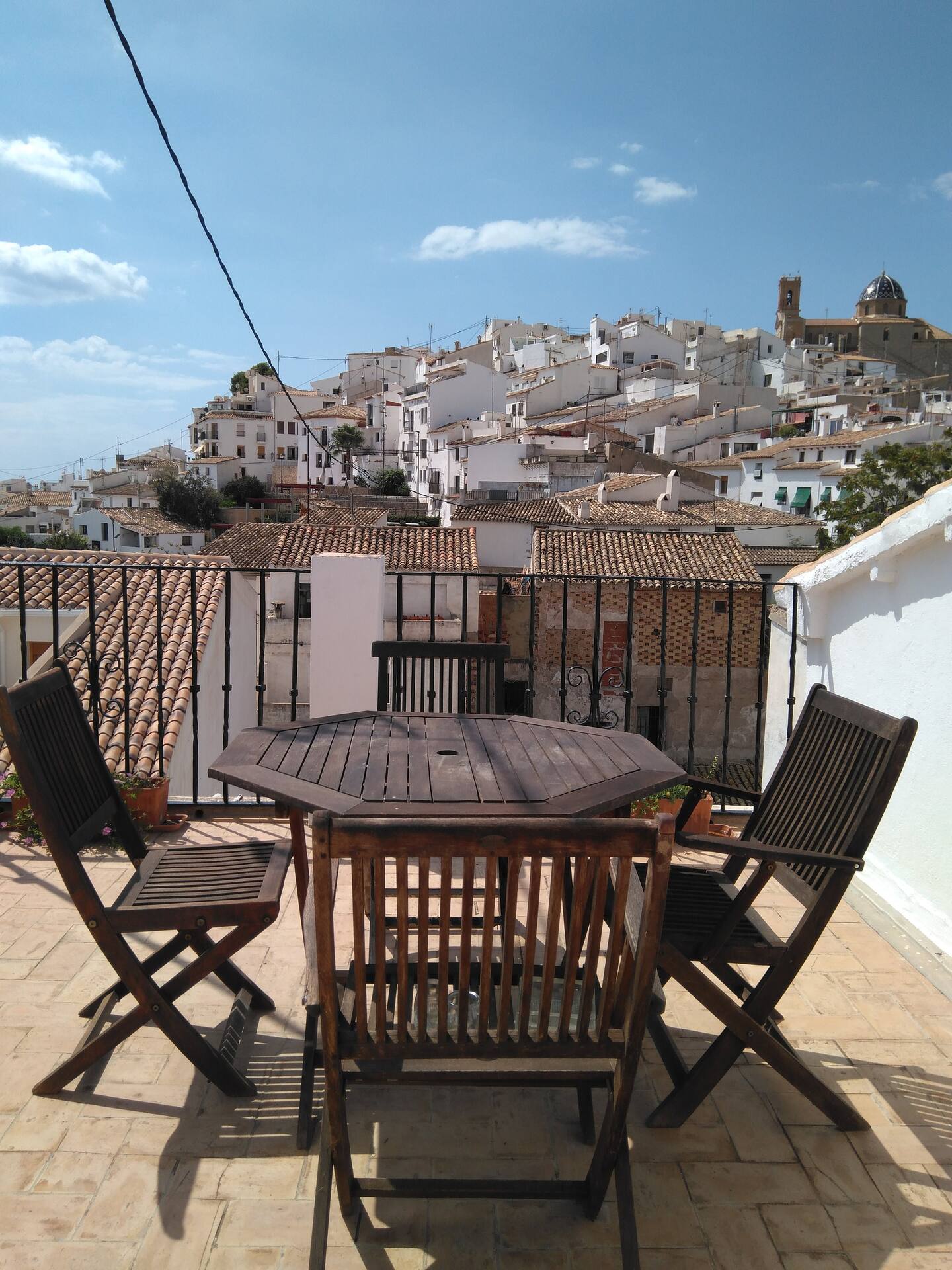 Amenities 8 out of 10
Because this is a home, you will find amenities not available at any other Altea Hotel. This includes 3 separate bedrooms with 5 beds in total, a full size bath, a lounge, an outdoor seating area on the roof and a full size kitchen allowing you to shop for groceries like a local of Altea.
Value 8.5 out of 10
We've rated this Altea Hotel very high on the value side. Although it is not a luxury property, it does offer accommodations for large groups. It is a home so it is kid friendly and it does offer a glimpse into what life would be like living in Altea.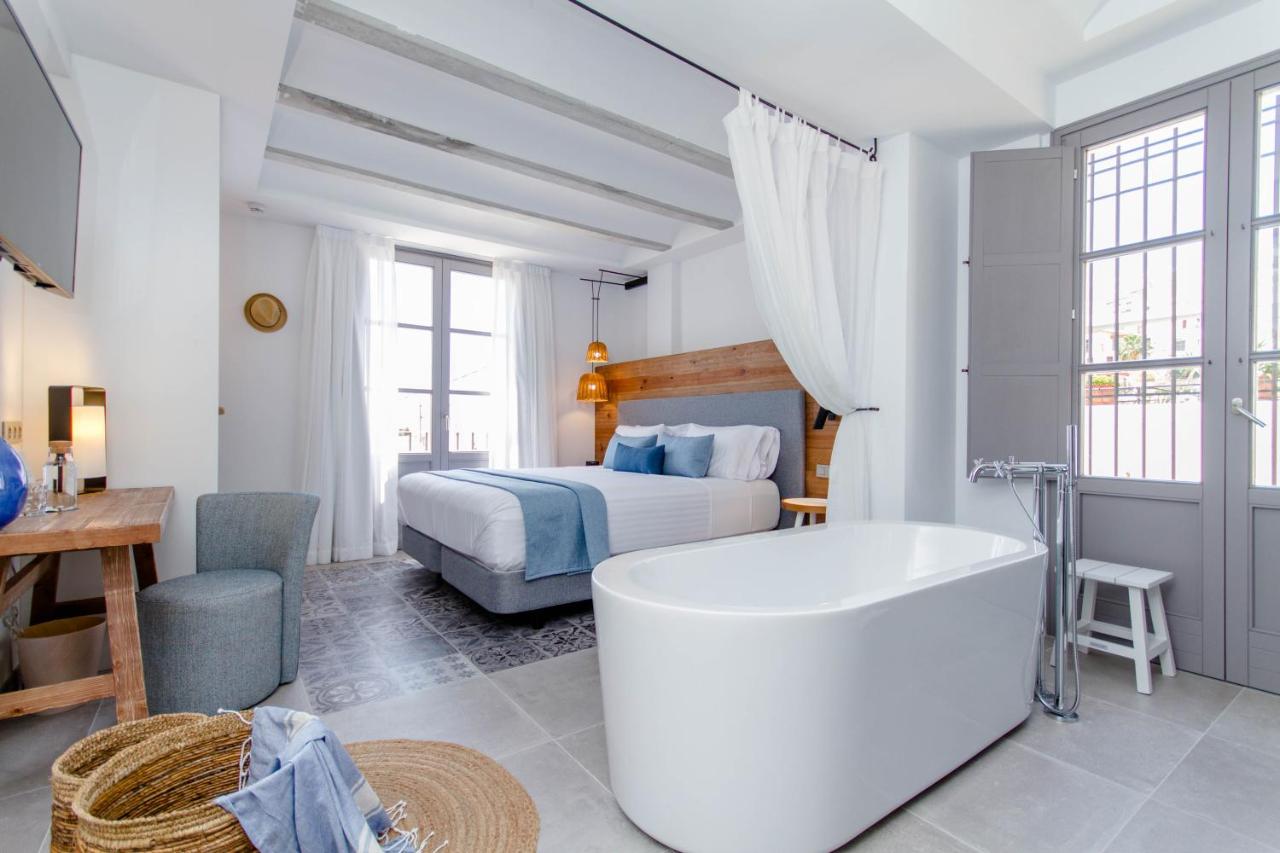 Hotel Boutique La Serena
Nestled on a tranquil street in the heart of Altea's historic centre, you'll find La Serena. It is a quaint boutique hotel that's just a stone's throw away from the sea and the bustling shopping district – a simple five minute walk, to be exact! This enchanting little haven has only 11 rooms, but don't let its size fool you because it is packed with charm!
Imagine lounging on their south-facing terrace, dipping your toes in the pool, basking in the warm glow of the sun. Fancy a cocktail? They've got a chic lounge bar where you can unwind with your favourite drink in hand.
But that's not all! La Serena also boasts a restaurant that will tantalise your taste buds, and for those seeking relaxation, there's a private spa complete with a sauna, a hammam, an invigorating ice fountain, a luxurious hot tub, and a range of showers. Let's break it down and give it a score.
Price 8 out of 10
At the time of writing this article, average prices hover around €100 per night. Given the intimate setting along with private parking, access to a pool and a host of other features, this Altea hotel is an excellent option to pamper yourself while searching for a property of your own!
Location 10 out of 10
Located right in the centre of Altea's old town, La Serena is in close proximity to everything! You'll be only a short walk away from bars, restaurants, shops and estate agencies. It might even influence where your property search might start!
Amenities 9 out of 10
With this boutique hotel's small amount of rooms, you would think it wouldn't be able to offer you amenities that you would find in larger Altea hotels; think again!
La Serena has a pool, spa and wellness centre along with a bar and restaurant. Top it off with room service and a coffee maker in each room. Our advice? Take every opportunity to enjoy all this hotel has to offer!
Value 9.5 out of 10
We love the fact that this hotel isn't too large yet offers you excellent amenities and location for the price. While there is plenty to do and see around La Serena, property hunters will be more focused on the task at hand; finding their next home!
We fully recommend a stay at this hotel in Altea next time you're in town.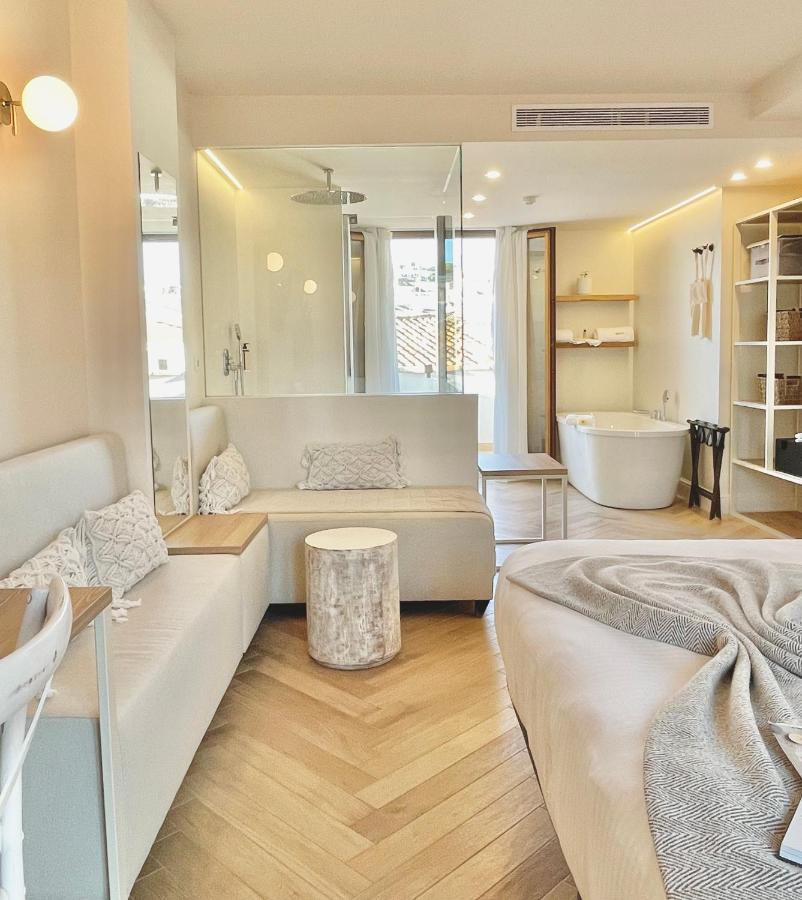 Hotel Abaco Altea
This hotel is also located right in the middle of the charming old town of Bellaguarda-Altea (sincerely one of the best areas!), you'll discover a delightful, traditional-style hotel that's just a hop, skip, and a jump away from the breathtaking Costa Blanca seafront. Welcome to the family-owned Hotel Abaco!
This enchanting hotel isn't just any building – it's a slice of history. Having originally served as a bakery in the 18th century, it's steeped in history and charm. Today, it provides guests a cosy accommodation within its 10 beautifully appointed rooms (see the image above 😃), each adorned with antique-style furnishings that add a unique touch of elegance.
Price 9 out of 10
The Hotel Abaco is well priced with rooms starting at an average of €100 per night. What you get is something worth bragging about though and you're sure to make friends back home jealous when they see your pictures on Instagram!
Location 9.5 out of 10
The location of this Altea hotel is nearly perfect. Staying here, you'll be centrally located to everything Altea has to offer. Enjoy a hike up to the church in the morning, a walk on the beach at night and a delicious meal at one of Altea's restaurants.
Amenities 8 out of 10
Besides the excellent rooms and decor, the amenities at Hotel Abaco are above board. They have private parking, free wifi, room service, a fully stocked bar and excellent breakfast service. Just what you need to kick your property search into gear each day!
Value 9 out of 10
While prices can fluctuate during the high season, Hotel Abaco is an extraordinary deal. This family run hotel hasn't lost the importance of intimacy and hospitality. You will surely feel well taken care of by its staff!
Because of the quality of the rooms, its central location and friendly service, you are sure to agree with us that Hotel Abaco is an excellent choice to stay at while searching for a property in Altea.
Conclusion
There you have it, these are our top 4 hotels in Altea to stay at while looking for your next dream home in Altea. We've tried to include a mix of luxury and homely so that you have variety when you come into town. Have a hotel to recommend to us, get in touch by going to our contact page; we'd love to hear from you!
If you're searching for a property in Altea or nearby, be sure to give our portal a try. You're sure to find homes that are not currently listed on other portals so keep your eye open for a gem!